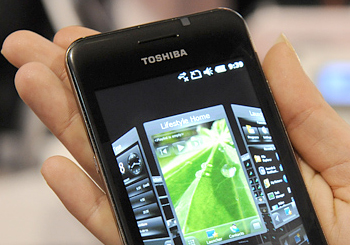 Business Grade Cell Phone APPS
As smart phones take over the world so do the Apps that make them "smart".  The Toshiba phone system supports a few different apps. From being able to have visual voicemail, to easily changing your voicemail greetings. "There's an app for that", as they say!
The one I find most helpful is being able to call out from my cell phone by using the caller ID of my office phone number. I like it for the fact that when people return my call that they always call my office number, it's just easy. I don't have to have two different numbers to give out and I don't have to give out my personal cell phone number.
I can have it ring my desk, then my cell, both at the same time, or send all the calls straight to voicemail.
From a service company's perspective, clients calling your techs directly is not usually a good thing. It distracts your techs, calls might not make it back to your office for proper ticketing (and billing!), and then what happens when the tech moves on to another company? Do you want your customers following them?
Set a policy that they need to make their calls thru the app, then when clients call back, the talk to the office get into your dispatch system properly.
Brad "the phone guy" Carr
Need Help with Your Phone System? Give our Friendly Staff a Call @ 847-398-3393 or click here https://wirelineinc.com to learn more about Wireline
https://wirelineinc.com/wp-content/uploads/2015/07/CellPhoneApps.jpg
245
350
Wireline Inc.
https://wirelineinc.com/wp-content/uploads/2023/01/LogoWireLineInc-e1672736098321.png
Wireline Inc.
2015-06-08 17:23:51
2015-07-08 17:35:42
Business Grade Cell Phone APPS